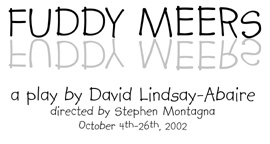 Cast Bios

Erin S. Baal (Heidi) - Erin is excited to be doing her fourth Mercury show. She hails from Dubuque, Iowa, and after completing her Performing Arts degree from Iowa State University she made her Madison debut in MOON OVER BUFFALO (Strollers). Her favorite roles in Madison have included: "Harper" in ANGELS IN AMERICA, Parts I & II (First Banana), "Velma" in BIRDBATH (Madison Theater Guild) and "Lady Macbeth" in MACBETH (Strollers). Erin would like to thank Stephen for his dedication, Mac for his support, and Andrea, Aaron, and Alex for their energy.
Craig Jacobson (Limping Man) - Craig is delighted with performing in his third Mercury Players production. He also appeared in 5:45 and HOT N THROBBIN.
J. K. Jacobsen (Richard ) - Jake has been around Madison community theatre since the last century. He enjoys it, and hopes you do too.
Michael Marshall (Kenny) - Michael Marshall is from Redgranite, Wisconsin. He is 20 years old and FUDDY MEERS is his first production as an actor. He moved to Madison to study acting with Ed Maxcy. So far, he is enjoying Madison and acting.
Stephanie Monday (Claire) - Stephanie is delighted to be working with Stephen Montagna and Mercury Players. She has performed with many theater groups in Madison, including: Madison Theatre Guild, Univ. of Wisconsin Theatre, Children's Theater of Madison, Stage Q, and Playwrights Ink. She received her training from the graduate Fine Arts Program at the University of Wisconsin-Madison.

Mark J. Peters (Millet) - Mark grew up in the wilds of Los Angeles before moving to Wisconsin to study theology in 1972. After being asked to leave the seminary "for harboring a rebellious spirit", he attended U.W. Whitewater where he studied all the things you need to know to play Jeopardy. Over the past eight years, Mark has produced, directed, written, acted and designed sets for Mercury Players Theater. This is his 12th production with the group. He has also worked with Broom Street Theater, First Banana Players, Box Car Productions, and studied improv with the Workshop of the Second City, in Chicago. He is currently working on his social skills.

Sarah Whelan (Gertie) - Sarah Whelan has spent most of her life on stage, performing all over the United States and selected foreign venues. She was last seen in Stroller's production of KINDERTRANSPORT and is currently directing and performing in "Positive Aging Theatre" around Madison and Dane County.