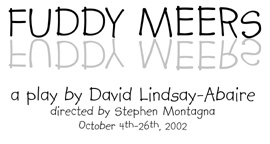 Production Crew Bios

Chris Barker (Lighting Designer) - Chris Barker has been designing lighting, scenery, and sound for many Madison theater groups. For Mercury Players he's done several productions including RAISED IN CAPTIVITY, POOF!, and 5 separate production of TEMP SLAVE, 2 mounted by Mercury Players in San Francisco. Chris' last production at the Bartell Theatre was Madison Theater Guild's LA CAGE AUX FOLLES in the Drury.
Joli Guenther (Costume Designer) - Joli Guenther is thrilled to be involved with her first Mercury Production. Joli's costumes have appeared in many productions around Madison, most recently in BREAKING LEGS (Strollers) and JANE (Millenium). During her free time, Joli is pursuing her Masters in Social Work in order to better administer to the special needs of her friends in theatre.
Jules Kelley (Stage Manager) - Jules Kelley is making her debut with Mercury Players as Stage Manager for this production. She has worked in Madison for the last several years mostly as a Stage Manager for Strollers and Madison Theatre Guild. She has also ventured out into other groups like Savoyards from time to time. Her most recent shows were BREAKING LEGS and THURBER CARNIVAL(Strollers). Jules would like to her parents, Lyle and Carol, for putting up with her theatre whim.
Stephen Montagna (Director) - Stephen Montagna, a native of Massachussetts, received his MFA in Acting at the UW-Madison ('94). Since graduating, Stephen has been seen in SIX DEGREES OF SEPARATION, BEAST ON THE MOON, and WIT at the Madison Rep., and in GLEN GARY GLENROSS and EQUUS with First Banana Players. He has directed THE LOVE OF THE NIGHTINGALE and CARTHAGINIANS at the UW-Madison, THE LIVING for First Banana Players, and ABDUCTED! for Guerrillas in the Midst. He has also volunteered with Men Stopping Rape, Inc., doing men's anti-violence education outreach. During the day, Stephen works as the Media Specialist at the UW Center for Women's Health & Women's Health Research.
Beth Shippert (Producer) - Beth Shippert is pleased that her first experience producing is with Mercury and this production of FUDDY MEERS. While studying to obtain her BFA in Theater Arts at Stephens College in Missouri, she directed Goldberg's THE SCOOP, Egloff's THE SWAN, and Overmyer's ON THE VERGE. Beth has been seen on stage at the Bartell in Stage Q's THE EIGHT: REINDEER MONOLOGUES and MTG's HARVEY. She has also performed with the Warehouse Theater in Missouri and Okoboji Summer Theater in Iowa, as well as a brief spell with Walt Disney World in Orlando, Florida. She thanks Laura Kate for the website, Christopher for existing, and Stephen for allowing her this fantastic opportunity to grow in theatrical experience.
John A. Smith (Sound Designer) - John A. Smith has been involved with Mercury Players as Producer of COMPUTERS IN LOVE, Stage Manager for TEMP SLAVE and BLITZKRIEG, Set designer for BENT, OLDEST PROFESSION, LITTLE SISTER & STOP KISS & sound design for ON THE OPEN ROAD. John had a great time with the sound in this show which shouldn't be surprising considering he had posters of Pete, Keith, John & Roger in his bedroom growing up. As always, all my love & respect to M.W. without whom theatre and life would rather empty.
Sandy Stauffacher (Props Designer) - Sandy Stauffacher comes to us with a wide range of theater experience. She graduated from UW-Platteville with a B.A. in Fine Arts/Theater. While at UW-P, Sandy ran the gambit of theater positions, from acting to stage managing a child-friendly A MID SUMMER'S NIGHT DREAM to directing LLANDRY AND BOURBON. After graduation, Sandy moved to Madison and participated in several non-theater genres, like stand-up comedy and a brief stint in ComedySportz training camp. Thankfully, she found a happy home at Mercury Players, where she ran the light board for Betty's Summer Vacation and performed as ButchBabe in Mercury's COMPUTERS IN LOVE - 'CHAT ROOM'. Her future plans include stage managing Mercury's upcoming production of KILLER JOE.
Joel Stone (Set Designer) - Joel got his start in theatre when his kids, Caleb & Lesley, asked him to"help out a little" on a First Banana Production. Since then he has "helped out" by designing and/or building sets for BURN THIS, EQUUS, HISTORY OF THE DEVIL, COMMUNITY, ABDUCTED, ANGELS IN AMERICA, POWER LUNCH, ON THE OPEN ROAD, and TRACERS.
Eric Straavaldsen (Assistant Stage Manager) - no bio available